North Belfast stabbing of teenager was 'attempted murder'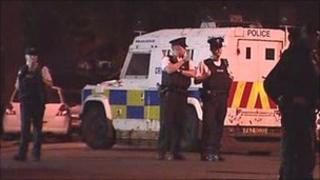 The stabbing of a teenager in north Belfast is being treated as attempted murder by police.
The 19-year-old is in a stable condition after being attacked in Cliftonville Avenue at about 22:00 BST on Thursday.
Four people have been arrested by detectives investigating the attack but it is not believed to be sectarian in motive.
The victim is in the Royal Victoria Hospital in Belfast.
An Ambulance Service spokesperson said the man had lost a significant amount of blood.
The Ambulance Service's John McPoland said: "When the paramedics arrived at the scene, they did find that he was fully conscious and had been stabbed in the lower back region.
"He had been losing quite a bit of blood, so they treated as they found at the scene, and transported him on to the Royal Victoria Hospital for further treatment."
Two men, aged 19 and 21, and two women, aged 18 and 19, were arrested at a nearby property on suspicion of attempted murder, a short time after the attack.
Detectives investigating the stabbing are also keen to speak to a woman who helped the young man at the scene.
North Belfast MLA Alban Maginness wished the young man a speedy recovery.
"People here are shocked at the viciousness of this attack and I welcome the arrests which have taken place since this incident," said the SDLP MLA.
"I hope that the police get to the bottom of this crime and that the perpetrators are brought to justice.
"I wish the victim well and hope he has a fast and full recovery from this traumatic experience."