WELB to carry out safety assessment on school routes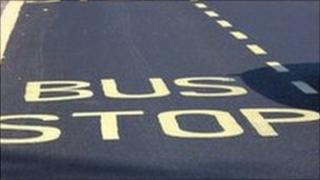 The Western Education and Library Board is to carry out a safety assessment of the route pupils have to walk to get to a number of schools in County Tyrone.
Over 130 pupils lost their free transport because of the merger of Strabane High School and Strabane Grammar School.
The board said it has agreed to provide temporary transport.
Pupils had been given concessionary travel in previous years, but there is now a shortage of space on buses.
The chair of the Stormont education committee, Mervyn Storey said the home to school transport policy was not "fit for purpose".
"It was introduced in the late 80s," he said.
"We are now in 2011 and clearly we need to look again at the policy the department uses in terms of how we transport children from home to school.
"Because of another set of circumstances - the amalgamation of the two schools - the board then was in a position where it had to make decisions as to how it was going to transport children to the school and we now have children, who have been set outside the criteria and I think that is not a good situation to be in."
Mr Storey said the Education Minister John O'Dowd and the department had a "duty" along with the board to look at the policy and get a proper home to school transport policy in place.
He said the issue also highlighted that a "wider debate" on how home to school transport was funded was needed.
Rethink
"If you look at the current budget that the minister and the department have set out, they are asking education and library boards to cut £5m per year, and in years three and four, the total taken out will be £30m.
"I believe that we need to look at this policy so that we can have a more logical way of getting children to school."
Board officers from the Western Education and Library Board (WELB) met with political representatives and a delegation from a number of schools in the area, to discuss transport arrangements in Strabane.
In a statement the WELB said: "In previous years, the board was able to offer concessionary home to school transport assistance to some pupils who would not normally be entitled to it, because there were surplus seats available on board-owned or contracted vehicles and this was provided at no additional expense to the public purse.
"However, in Strabane this concessionary facility has had to be withdrawn from September 2011, because there is now little or no surplus capacity on buses.
"This additional capacity existed in the past because of the later starting and closing times of Strabane High School."
One parent, who did not want to be identified, said she may have to miss work to ensure her child gets home safely.
"The bus normally dropped her off outside her granny's house beside where we live and that's not going to happen now," she said.
"I might have to cancel my shift on Friday.
"I would like them to actually look at the road the bus is going on.
"Did they look at the route or is it somebody sitting at a desk just picking this out of their head?"