Holywood restaurant Fontana faces fine over workers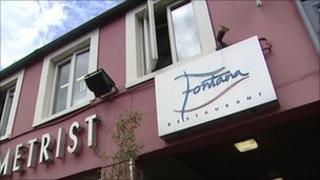 A Holywood restaurant is facing a potential £20,000 fine for employing two illegal workers.
Officers from the UK Border Agency raided the Fontana restaurant on High Street on Thursday night to question staff about their work visas.
Two men, a 27-year-old Argentinian and a 29-year-old New Zealander, were arrested.
The owners of the restaurant could be fined up to £10,000 for employing each of the man.
The men are currently being detained and will be removed from the UK.
The Fontana has been issued with a civil penalty notice for employing illegal workers. If the owners cannot prove they made all the required checks on the two men they could be fined.
Mike Golden, assistant director of the UK Border Agency in Northern Ireland, explained that the operation was part of a nationwide campaign against illegal immigration.
"This is the latest in a series of operations we've carried out to tackle immigration crime in Northern Ireland, and more are planned," he said.
"Illegal working has a serious impact on communities, taking jobs from those who are genuinely allowed to work.
"Businesses which operate outside the law should be warned that they will be found and they will be punished."