Property company reports £5m pre-tax loss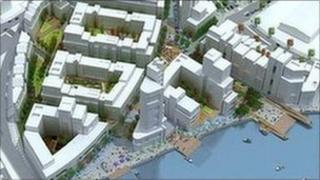 A Northern Ireland-owned property company has reported a £5m pre-tax loss, largely as a result of writing off the value of its investment in the failed Carvill Group.
Vico Properties plc operates mainly in Scotland but also has projects in Northern Ireland and England.
It is controlled by a Carvill family member and owned around 20% of shares in the group.
Carvill Group went into administration in May. It owed banks more than £80m.
Vico has bank loans of £24m which were due for renewal at the time the accounts were filed at the end of July.
The directors stated that they were confident that discussion with the company's banker, Northern Bank, would lead to a renewal of that facility.
They added that they have recently secured planning permission for a supermarket in Northern Ireland and are in advanced negotiations to sell the site to a supermarket operator.
They are also in discussions to sell a smaller supermarket site in Scotland and said that completion of these deals would lead to "significant cash receipts" in the coming 12 months.
Vico values its portfolio of development sites at £30m and has shareholders' funds of £8.6m, down from £13.6m in 2009.