Woman, 25, robbed 'life-long friend' of pension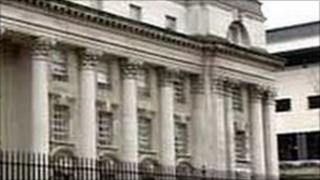 A 25-year-old woman robbed an elderly man of his pension and threatened to burn him out of his home if he told police, the High Court heard on Friday.
Margaret Henderson, of Kilbroney House, Greenway, in Belfast allegedly searched and took £197 from the victim on 28 August.
It was claimed she followed him to his north Belfast home, held him against a wall and demanded money.
She faces charges of robbery and threats to damage property.
The victim, believed to be a life-long friend and in his late 60s, refused but had cash taken from him, the court heard.
Crown counsel Kate McKay told the bail hearing: "She threatened him if he contacted police she would burn him out of his flat."
It was also disclosed that after she was arrested, Ms Henderson denied both the scale of the robbery and using any force.
The accused did admit taking some money and said: "I swear on my child's grave it wasn't £200 I stole, it was only 100."
The defence said his client had known the victim all her life and would help him with his weekly business.
He told the court: "She wanted money. She would say there was no weapon used and no violence."
Mr Justice Gillen refused the bail application and described it as "a hopeless case".
"This was a very frightening experience for this man if the allegations put forward by the Crown are true," he said.