Bail refused for former RAF man on trafficking charges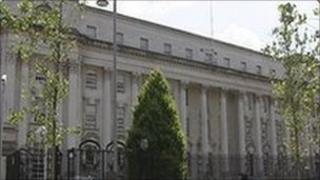 A former RAF man from Belfast allegedly provided security for eastern European women trafficked into Northern Ireland.
Lyle Lamont, 22, of Squires Hill Crescent, is alleged to be linked to a crime gang behind the cross-border vice racket.
He was refused bail at Belfast's High Court along with a 22-year-old Czech woman accused of arranging bookings with prostitutes.
Both are charged with controlling prostitution and brothel keeping.
Mr Lamont and Jana Mahovska, with an address at Cavendish Street in the city, had their bail applications rejected.
Mr Justice Gillen said: "If the prosecution case is correct this is a horrifying and shameful tale of organised crime and exploitation of young women trafficked from eastern Europe to Northern Ireland.
"Having been brought here these young women, alone and doubtless friendless, were used and abused by predatory males on an organised basis over a lengthy period of time."
The two suspects were arrested and charged along with 29-year-old Bronislav Rybensky, of College Central Apartments, King Street, Belfast, following a three-month police investigation which led to six alleged victims being rescued.
Opposing bail for Mr Lamont, Crown counsel Kate McKay said he was the tenant of one of the apartments searched by police.
Deleting data
It was claimed that Mr Rybensky had told some of the prostitutes that Mr Lamont was to provide security for them.
Mrs McKay also alleged that Mr Lamont was deleting data from the memory of his mobile phone as he was arrested.
The defence told the court his client joined the RAF after leaving school and served for seven months before being medically discharged.
He said Mr Rybensky had offered to help the accused with the rent on an apartment in return for letting three women stay there.
Defence lawyer Gavan Duffy said: "He says he is not naive. He realised what was happening but denies he had anything at all to do with controlling these women.
"Mr Rybensky may well have told these women that Mr Lamont had a particular role of someone to look after security. But that is not the case," he said.
The court heard alleged trafficking victims claimed Ms Mahovska took calls from clients and arranged bookings.
'Serious consequences'
She admitted working as a prostitute herself for up to five months after arriving in Belfast but said she stopped after beginning a relationship with Mr Rybensky's half-brother.
Her barrister, Paul Bacon, said she initially refused Mr Rybensky's request for her to book appointments, only to be told there would be "serious consequences".
"She effectively was a victim of this enterprise," he added.
"The only difference between her and the other girls who have now been protected at a secret location was the fact that she was forced to make phone calls to assist Mr Rybensky in his operation."
However, Mr Justice Gillen ruled that both accused should remain in custody.
"The courts in Northern Ireland will not tolerate this behaviour and, if convicted, those involved in this exploitation will undoubtedly receive very severe prison sentences," he said.