Eileen Corrigan murder inquiry 'stalled'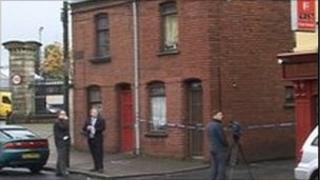 Police have said efforts to find the killer of an Armagh pensioner, murdered almost three years ago, have effectively stalled.
Eileen Corrigan, 62, was found strangled in her home at Boyd's Row in the city in October 2008.
At an inquest on Friday, the officer who led the initial inquiry said they believed robbery had been the motive.
However, police had no strong evidence and no key suspect, she added.
Retired Chief Inspector Deborah McMaster was asked by the coroner if the case might benefit from being featured on the BBC's Crimewatch programme.
She replied that, while information from the public could still hold the key to solving the case, there was very little forensic evidence to back up any potential leads.
BBC district journalist Gordon Adair said the lack of good forensic evidence seemed to be the main hurdle.
"Ms McMaster told the coroner that Mrs Corrigan's home had been in a state of some disrepair and that this had seriously hampered attempts to gather forensic evidence that would subsequently have a chance of standing up to scrutiny in a court," he said.
"She said the police had initially examined several lines of inquiry but had eventually come to the conclusion that robbery was the motive and that her killer had been known to her as there was evidence he or she was familiar with Mrs Corrigan's movements."
The coroner recorded that Mrs Corrigan had been killed by ligature strangulation, probably four days before her body was found.
Mrs Corrigan had lived alone after the death of her husband in 1996.
She was described as "quiet and inoffensive" and was well-known in the area.