Disappointment as Belfast Central Library refused £20m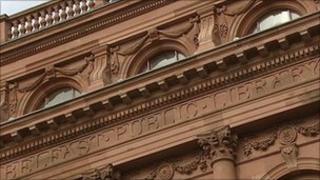 The Libraries Authority has said that it is disappointed it is not getting £20m to refurbish Belfast Central Library.
Belfast Central library was built in 1888 and recently £1m was spent improving its exterior.
However, it it had been expecting another £20m to completely restructure and renovate the interior.
That plan has been shelved because of Northern Ireland Assembly budget cuts.
The chief executive of Libraries NI (Libraries Authority) Irene Knox said: "We're obviously disappointed, but we still believe that this building and the tremendous resources that are in it are very important not just to Belfast but to Northern Ireland as a whole.
"So we are continuing to pursue our plans looking at other possibilities, other potential sources of funding."
The financial situation has also led to the proposed closure of ten rural libraries across Northern Ireland.
Local groups have been fighting the plan and Libraries NI is expected to decide in October which will close and which may be reprieved.