Ear bite accused Craig Wright banned from Newtownabbey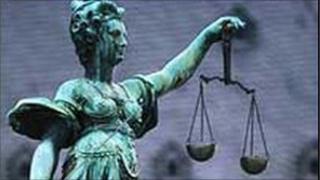 A man accused of biting part of a woman's ear off outside a County Antrim pub has been banned from the area of the alleged attack.
Craig Wright, 20, was ordered to keep out of Newtownabbey as part of bail conditions.
He is charged with causing grievous bodily harm with intent to the victim.
Wright, of Green Walk, Rathcoole, Newtownabbey, is alleged to have carried out the attack after offering to fight the 19-year-old woman.
At an earlier hearing the High Court was told surgeons were unable to reattach the section of ear bitten off during the incident in May.
According to the prosecution Mr Wright first approached the woman, who was unknown to him, on the dance floor at the Cloughfern Arms.
He was said to have been crying about a friend who had just committed suicide, but allegedly turned aggressive after the victim tried to console him.
It was claimed he followed her out of the bar and swung a punch which missed.
The woman was then forced to the ground and had part of her ear bitten off, the court heard.
Wright later went to a police station with his parents and was arrested.
He claimed to have no recollection of what happened because he had been drinking and taking drugs.
The court heard that after being charged he stated: "If I did commit this gruesome crime I am deeply and meaningfully sorry."
Mr Justice McCloskey ruled that Mr Wright was suitable for bail "by a narrow margin".
The judge ordered him to live at an agreed address in Belfast, banning him from being in Newtownabbey other than to visit his mother.
Mr Wright was also prohibited from taking drink or illegal drugs, curfewed and subjected to electronic monitoring.