Sectarian attack statistics 'misleading' says PSNI's Burrows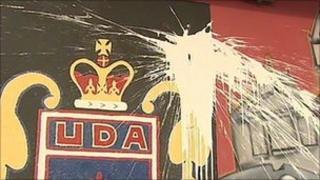 The police area commander for Foyle has said figures showing an increase in the number of sectarian crimes in the north west are "misleading".
The PSNI figures show a year on year increase over the past three years in the area.
Chief Inspector John Burrows said the figures reflected a more proactive approach by police.
"I think the figures are completely anomalous, I think they're misleading," he said.
"We've worked very hard to reduce sectarianism and you've actually seen massive reductions in the levels of violence for example at the Fountain interface.
"I've seen a 70% reduction in crime at the Fountain interface. You used to see nightly attacks - kids throwing stones every night.
"We took positive action with Operation Exposure, we released their images to the newspapers, we identified those people and the number of sectarian incidents has fallen dramatically."