Internet spoofs of NI landmarks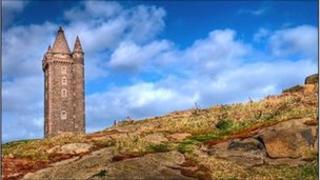 Oh no - is that the Albert Clock crashing to the street below? Well that's certainly how it looks in this video on Youtube.
But do not fear. It's all a spoof which just makes it look as if the clock has toppled with all the drama of a Hollywood diva.
Another spoof shows Scrabo Tower in Newtownards as viewed from someone's bedroom window. What happens next is a little like a scene from a sci-fi film.
Neil Armstrong would be proud.
Watch it and see.