Londonderry man jailed for hiding dissident weapons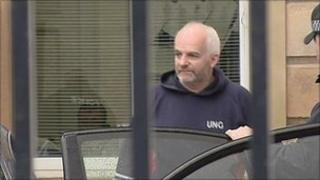 A man who was hiding guns and bullets for dissident republicans has been jailed for seven years.
Thomas Christopher Nash, 54, will serve half that sentence in custody.
However, he will be subject to licence for a further five years after a Belfast judge deemed him a danger.
Nash from Iveagh Park, Prehen, Londonderry admitted having a .22 calibre hunting rifle, ammunition and a silencer with intent on 9 August 2010.
He also admitted having an imitation AK47 assault rifle and an imitation handgun with intent to cause fear of violence, and a canister of CS spray.
Sentencing him on Friday, the judge said he was extending the term of his licence due to his willingness to engage with terrorists "who are all too willing to take human life".
"It is an unfortunate fact that there are in our midst terrorist organisations who have sought to attack and kill members of the security forces," he said.
"Others have taken different paths, but they have chosen to continue attacks with indiscriminate weaponry. Those who are convicted of such involvement will face long and condign punishment."
Earlier, the court heard that the police raided Nash's home last year after he was stopped in a car with two other men at Irish Street, Derry.
A prosecution lawyer told the court that hidden in a blue holdall in the garage was a .22 hunting rifle, telescopic sight, assorted bullets including rounds designed to expand on impact, an imitation pistol, an imitation AK47 assault rifle, as well as balaclavas and a canister of CS spray.
He added that stashed under a concrete block in the garden, detectives found over 100 bullets but that during 24 police interviews, Nash refused to answer the majority of questions despite forensic DNA evidence linking him to the holdall.
The father-of-three later pleaded guilty to possessing the guns and ammunition with intent to enable others to endanger life and possession of the prohibited weapon.
A defence lawyer said that at the time of the offences, Nash had been in a mentally and medically vulnerable state and so, had "agreed to the storage of these weapons".
The judge said it was not in dispute that the weapons were for dissident republicans "whose intentions to murder and maim have been made all too clear" and that Nash had played a vital role in hiding the guns and bullets.