Belfast food outlet destroyed in arson attack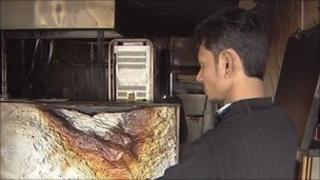 An Indian take-away premises in south Belfast has been destroyed in an arson attack.
The building on the Upper Lisburn Road was broken into in the early hours of Saturday morning.
Police said that Spice Fusion was reported as being on fire at about 07:00 BST.
Police are also investigating a burglary at premises next door. The shop was ransacked, but it is not known if anything was stolen.
Spice Fusion owner Ahad Miah said he was devastated at the attack on his property.
"I have worked so hard for this place since I opened about six months ago," he said.
"I worked seven days a week, I had my family working here.
"To them it might have been a bit of fun bit they have taken the livelihood of a whole family, and to restart again from the damage they have done is absolutely impossible."
The SDLP's Conall McDevitt said he hoped Mr Miah was able to recover his business.
"This is very sinister given the nature of this attack and is completely and utterly reprehensible," he said.