Portrush air show pays tribute to pilot killed in crash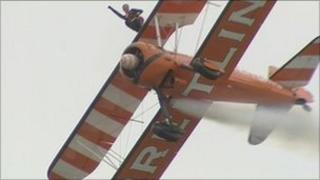 Portrush air show has paid tribute to the Red Arrows pilot who was killed in an accident at a display last month.
Flt Lt Jon Egging, 33, from Rutland, was killed when his Hawk T1 aircraft crashed at the Bournemouth Air Festival two weeks ago.
A Hawk aircraft staged a fly past at 15:00 BST on Saturday to coincide with his funeral.
The Red Arrows had been due to perform at the air show, but cancelled after the crash.
Ian Donaghey, director of the Chamber of Commerce, said the event was vital for the area in the current economic climate.
"It brings over 200,000 tourists to Portrush over a weekend which must result in over a million pounds spent," he said.
"Without it, it would be disastrous - the season would end a full weekend earlier and it is vital that it continues in these hard times."
The air show was initially cancelled last year due to reduced contributions from sponsors until businesses rallied together and raised enough money.
The DUP's Gregory Campbell said the location was a bonus for those visiting.
"It is a very attractive option for bringing tens of thousands of visitors from all over to a most attractive part of Northern Ireland," he said.