Wayne Boyd: Northern Ireland driver chases IndyCar dream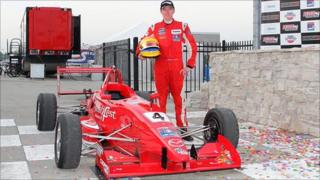 If you want evidence of Northern Ireland racing driver Wayne Boyd's determination to get to the top of his sport you only have to look at his flight schedule.
Since March, the 20-year-old mechanic at the Nutts Corner circuit in County Antrim has been travelling thousands of miles on a regular basis to North America to maintain his quest to be an IndyCar star.
He competes in the USF2000 Championship and on Saturday his persistence was rewarded when he beat its new champion, Petri Suvanto of Finland, to claim first prize in a race on the streets of Baltimore.
The USF2000 competition is a key stepping stone for young drivers wanting to reach the goal of driving an IndyCar.
Boyd, who followed racing icons Ayrton Senna, Eddie Irvine and Jenson Button in being crowned British Formula Ford champion in 2008, explained how the move to the series had come about.
"It all really started at the end of last year, when I got a Facebook mail from one of the teams asking would I be interested in racing in the USF2000 series," he said.
"So a few emails went back and forth, just to find out more about it and how much it would cost etc.
"I then did some more research into it myself online.
"Then I started talking to a few other teams in the series to see if they could offer me a better deal as at the moment, trying to find any sponsorship is hard so obviously the lower the budget the better.
"Brian Belardi of Belardi Auto Racing offered me a deal I couldn't refuse and so the contracts were signed and I got on a flight over to Indianapolis where the team are based just a few days before the first race, all very last minute."
As well as contending with travelling to the US for each race from his home in Templepatrick, Boyd has had to adapt to a different style of racing.
He has gained his first experience of oval circuits and tested his skills at high-profile venues such as the Sebring International Raceway in Florida and the Milwaukee Mile in Wisconsin as showcased on You Tube.
Indeed, prior to his success at Baltimore, the highlight of his season was finishing first at the USF2000 event in Milwaukee.
He described the thrill of winning there and the difference between racing in America and Europe.
"It was only my second ever time on an oval and my first time on a mile long one so to win it was awesome," he added.
"Also, this was Belardi Auto Racing's first win as well, so you can imagine how pleased everyone in the team was as you are up against teams that have raced in the series for years.
'Glamorous'
"There isn't a massive difference (in European and US racing) to be honest, but I definitely prefer US racing.
"It's a lot more chilled out than the European racing, but in a good way, off track it's much more friendly and relaxed, but on track it's as competitive, if not more than Europe."
The eclectic nature of the USF2000 championship is revealed in the different backgrounds of the competitors, which include glamorous 21-year-old female driver Shannon McIntosh who recently featured in an MTV documentary.
Boyd said he made no distinction between McIntosh and the other competitors who race in cars which are "guaranteed to be doing 135mph a lap".
"To be honest, I've never really thought about it," he added.
"Everyone is treated the same on track, once you put your helmet on it doesn't really matter."
A six-day training and exercise regime keeps Boyd focused on that ultimate dream of a drive in an IndyCar.
He finished third in this year's USF2000 Championship, which gives the winner a fully-funded drive in the next rung of the IndyCar ladder - Star Mazda - worth $375,000.
Boyd admits travelling to the series has been "pretty difficult" but he has overcome the hurdles of time zone differences and jet lag to keep his ambitions on track.
"This year was my first going to the US, so it was a bit of an eye opener the amount of different flights you have to get and by yourself," he added.
"Nutts Corner circuit are really good about it though and let me have the time off without a problem, I don't think there would be too many other jobs like that.
"My future plan is to keep moving up the ladder, hopefully into Star Mazda next year, but it all depends on sponsorship.
"Then to make it to IZOD IndyCar, to win the series and the Indy 500, then I'll be happy!"