Wedding car crashes into a shop front in Portadown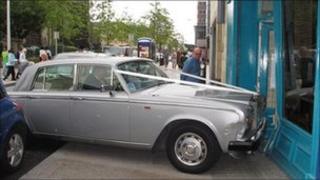 It was gate crashing of a different sort on Saturday when a wedding car hit a shop front in Portadown.
The car was attending a wedding at the nearby St Mark's Parish Church at about 13:15 BST.
There were no injuries although Robert Wilkinson who witnessed the crash said "the driver was obviously embarrassed".
"The driver lost control of the car and it shot across the road," he said.
"It was extremely fortunate that no-one was on the footpath and the traffic was reasonably light."
Mr Wilkinson said the bride had arrived at the church when the driver decided to move the vehicle.
After losing control, he managed to steer the car in between two parked vehicles without causing them any damage.
Unfortunately, his own transport suffered, as did the frame of the shop which stopped it.