Derry rioter 'would be jailed for 18 months in London'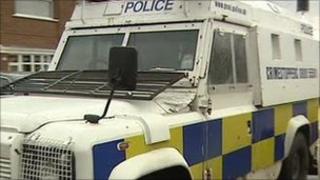 A Londonderry man who admitted rioting in the city on 13 July has been told if he was in court in London he would be facing 18 months in prison.
Ryan John Sharkey, 18, of Jasmine Court, admitted throwing missiles at a police land rover at Westland Street.
Sharkey was among a group of five or six rioters chased on foot by police. He was arrested near Durrow Park.
District judge Barney McElholm said he would get one chance and one chance only and fined him £250.
After being arrested Sharkey was brought home and in front of his mother admitted rioting.
Solicitor Paddy McDermott said his client had consumed alcohol and foolishly got involved in the rioting.
He said he was probably too honest for his own good when he told police he would do it again.
Mr McElhom said if he did do it again he would go straight to prison.