Seamus Holland murder accused 'admitted attacking uncle'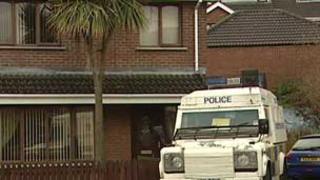 One of two brothers accused of beating their uncle to death allegedly admitted carrying out the attack, the High Court has been told.
However, Gerard Gaskin did not intend the assault on Seamus Holland to have fatal consequences, a judge was told.
Mr Holland, 55, died in hospital after being apparently beaten with a steel bar at his west Belfast home last year.
A doctor who carried out a post mortem likened the injuries to those suffered in a serious road traffic accident.
Mr Holland had suffered a broken arm, nose and shoulder blade, multiple fractures, lacerations to his head and face, and puncture wounds to his arms and legs.
Gerard Gaskin, 30, and his brother Daniel, 20, both of no fixed address, are each charged with Mr Holland's murder.
The older suspect was seeking temporary bail to attend his child's first day at school.
A crown lawyer opposed the application due to fears of possible interference with three witnesses to the alleged attack.
The court heard violence flared at the victim's home in Upton Court after the two accused arrived there early on 21 November.
'Covered in blood'
It was claimed that Gerard Gaskin whispered something into Mr Holland's ear and took him into the kitchen area away from two other relatives and a friend who were also in the house.
Daniel Gaskin then allegedly went in and joined the attack.
According to the prosecution, one of the others in the house saw Mr Holland bent over, covered in blood and being hit with a shiny metallic bar.
Minutes later the Gaskin brothers left, telling the others to wait 15 minutes before phoning an ambulance and to say they had not been present, it was claimed.
Blood from the victim was found on a steel bar later recovered from a stream in the area.
The prosecution barrister added: "Gerard Gaskin admitted during interview that he carried out this assault on his uncle."
Defence counsel Charles McCreanor confirmed the admissions and said his client had handed himself in to police.
"He has made the case that firstly he never intended for the deceased to go down," Mr McCreanor said.
It was claimed that the attack stemmed from previous allegations against the murder victim involving another relative.
"There's a very difficult, fraught background," Mr McCreanor added.
Refusing the compassionate bail application, Mr Justice McCloskey said: "The applicant is charged with a very brutal murder.
"There is the suggestion of a risk of interference with witnesses."