Belfast Trust to discuss City A&E closure delay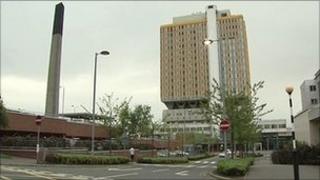 Postponing the temporary closure of the A&E department at Belfast City Hospital is to be discussed at a Belfast Health Trust meeting on Wednesday.
The casualty department at the south Belfast hospital was due to close at the end of September because of concerns over a lack of senior doctors.
Health Minister Edwin Poots has said that the staffing issue made him doubt the department's long-term viability.
The closure has been opposed by trade unions and patients' groups.
It is understood that postponing the temporary closure is one of a number of options to be discussed at the trust meeting.
A trust spokesperson said: "Issues surrounding the emergency departments in Belfast trust will be considered at the board meeting which will take place on Wednesday 7 September.
"The safety of our patients remains our priority."
About 42,000 people visited the City's A&E department last year.
Campaigners have argued that the other two casualty facilities in Belfast, at the Royal Victoria Hospital and the Mater Hospital, do not have sufficient resources to deal with the overflow from the City.
Mr Poots has conceded that the closure of the City could pose problems for the capacity of the infrastructure at the other two hospitals.
But he has also stressed that there are neither the financial nor staffing resources to sustain three separate A&E departments within a few miles of each other.