Derry man charged over 'gothic horror weapon'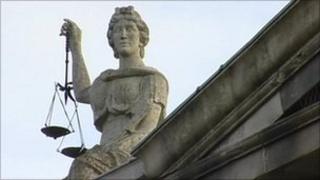 A man has appeared at Londonderry Magistrates' Court charged over what District Judge Barney McElholm described as a "gothic, horror weapon".
Paul Murray, 47, from Shearwater Way, was charged with possessing a claw hammer with nails welded to the head.
He is also accused of having a two-foot Samurai sword, three assaults, resisting police and disorderly behaviour.
All the offences are alleged to have happened on Saturday.
Mr Murray was remanded in custody until 29 September.
The court was told the police received reports of a man being shot with a stun gun and when they went to the Lincoln Courts area, they saw three people fighting on the ground.
CS spray had to be used to separate them.
The defendant was observed on the ground with the hammer and the sword was nearby.
A police officer said that Mr Murray made an attempt to raise the hammer but was restrained.
After being arrested, the accused told police he was trying to protect his home.
When police searched it, they found a large amount of machete-type knives and a stun gun
The court was told that the incident was linked to an earlier incident involving a stun gun.
The police officer said that Mr Murray's son was allegedly involved in this incident and that he had phoned his father for assistance.
'Knife-collecting hobby'
Defence solicitor Moira Rafferty said that Mr Murray would claim that a crowd of 15 to 20 males had gathered outside his house and he had lifted the two items to defend his house, but he had no intention of using them.
She said that the collection of machete-type knives could be explained by the fact that the accused's son collected knives as a hobby.
She also claimed that Mr Murray had found the claw hammer and was taking it away to dispose of it.
Judge McElholm said that, if there was crowd of 15 outside his home, he would phone the police and if if he had found a "murderous" weapon like that, he would have gone straight to the police.
He said that he'd never seen anything like the claw hammer and whoever had made it, was out to inflict serious injury.
He refused bail on the grounds of serious risk of interference with witnesses and further offences.