Ardoyne 12 July petrol bomber given four years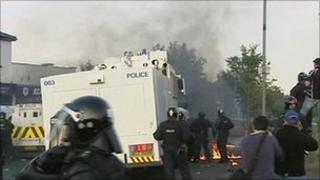 A man who admitted throwing a petrol bomb at police during rioting on 12 July has been jailed for four years.
Emmet Doherty, 21, of Jamaica Street in north Belfast, must serve half the service in custody and half on licence.
Judge Tom Burgess said although the petrol bomb landed 20 metres away from police, it was a "lethal weapon capable of inflicting horrific injuries".
Doherty admitted rioting, throwing the petrol bomb, damage to police vehicles and stealing and burning a car.
Prosecution lawyer David Russell said that during police interviews Doherty had identified himself standing on the roof top of a dentist's premises at the Ardoyne Road and from there, officers were able to positively identify him committing other offences.
The lawyer told the court Doherty could also be seen carrying a golf club and was also spotted driving a Toyota Yaris which was then set ablaze after he got out.
Defence lawyer Joe Brolly argued that had it not been for Doherty's confessions, the crown case against him would have been very difficult to prove.
In jailing Doherty, Judge Burgess said Doherty's actions amounted to "mindless hooliganism with no interest in the safety of others".