Plan for McDonald's outlet in Dublin's Temple Bar rejected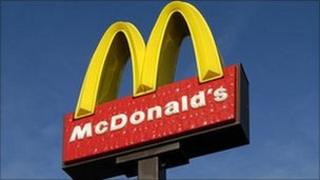 The fast-food restaurant chain McDonald's has been refused planning permission to open an outlet in Dublin's Temple Bar.
Dublin City Council has ruled that the addition of the proposed three-storey outlet would overcrowd an already busy area.
It was claimed that the restaurant, proposed at the site of the former Fitzer's restaurant, had the potential to create 60 full-time jobs.
It had met with a number of objections.
Among those objecting was the heritage group An Taisce who argued that a fast-food chain would detract from the cultural, artistic and historic character of the area.
A number of residents and politicians had also made submissions on the company's application to Dublin City Council.
On its website, Dublin City Council also said that Temple Bar was already adequately served by restaurants and that the building in question was a protected structure.
A McDonald's spokesperson said the company was 'very disappointed' with the decision, adding that they are in the process of' reviewing the decision and would decide on the next course of action when that review was completed.
McDonald's now have four weeks to appeal the decision to Dublin City Council.