Alleged County Tyrone Real IRA leader granted bail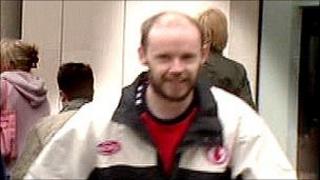 Police believe a Tyrone man who appeared in court on terrorism charges is a member of the Real IRA's army council and its leader in east Tyrone.
Fingerprints on a coffee grinder were said to link Kevin Barry Murphy, from Altowen Park in Coalisland, to bomb-making material including Semtex.
A police officer said the accused had a previous terrorism-related conviction.
Bail was granted, but the accused must observe a curfew, wear an electronic tag and stay out of Keady in Armagh.
A detective sergeant told the court Mr Murphy's fingerprints had been found on a coffee grinder which police believe is linked to a quantity of Semtex, icing sugar and chemical fertiliser - the ingredients, according to the detective, of an improvised explosive device.
A defence solicitor said his client would deny the claims that he was a member of the Real IRA and pointed out that he was not charged with membership of any illegal organisation.
He said the coffee grinder on which his client's fingerprints were allegedly found was an everyday household item.