Man is accused of having gun in dissident shooting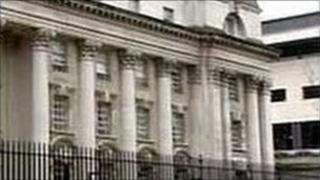 A man accused of having a gun used in a dissident republican punishment shooting must stay in custody.
Sean Megaw was refused bail at Belfast High Court after the judge heard he would be facing a more serious charge.
The 23-year-old, of Glasvey Drive, Twinbrook, west Belfast, is now accused of possessing a firearm and ammunition with intent to endanger life.
The allegations are connected to a legally held semi-automatic pistol stolen from a west Belfast home.
The court heard it was later discovered at another house, with Mr Megaw allegedly linked to it through a DNA match.
At an earlier court hearing prosecutors said ballistic examinations had confirmed the pistol was used in a shooting incident in the Twinbrook area last May.
A man found bleeding from his thigh and ankle had been shot at point blank range.
Police believe the Continuity IRA was responsible.
The court heard that searches of Mr Megaw's home in February led to the seizure of two rounds of ammunition, three balaclavas, and a radio jamming device.
Defence lawyers argued that he had a clear record and no connections to paramilitaries.
It was also set out that the accused is not being held on the paramilitary wing at Maghaberry Prison.
Ruling on the bail application, Mr Justice Weatherup acknowledged Mr Megaw had no known previous links to the Continuity IRA.
However he said: "There are particular concerns to me about the activity of dissidents, and here we have the identification of this applicant with a dissident group through a DNA link on the weapon used in a previous punishment shooting.
"Then the coincidence, the defendant would say, of the recovery of ammunition in his house as well.
"On balance I feel that there is a risk here that warrants his continued detention and therefore bail is refused."