Prisoner's calls monitored to uncover drug trafficking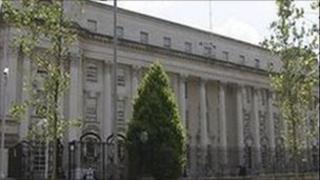 Prisoners' telephone calls were monitored during a three-month operation to uncover drug trafficking within a Young Offenders Centre (YOC).
The Court of Appeal heard on Tuesday how intelligence was used to stop temporary home leave for suspected suppliers at Hydebank Wood.
A convicted robber and hijacker was believed to be drug dealing.
The decision to cancel James Davidson's release period led to him launching a legal challenge.
He claimed he had a right to know the reasons.
Senior judges, however, dismissed his appeal against being refused a judicial review on Tuesday and ruled that there was no procedural unfairness involved.
Davidson, whose address and age were undisclosed, was sentenced to four years in the YOC for offences which also included theft and possession of an offensive weapon.
Although he has since been released, an earlier period of temporary home leave in July 2009 was cancelled on the morning he was due out.
Monitored telephone calls
This was after an ongoing security operation revealed he was allegedly involved in supplying drugs at Hydebank Wood.
The information given to a deputy governor had come from monitored telephone calls from the prison.
The court head an internal security department also had intelligence about his movements and association with traffickers in the YOC.
Davidson was advised in a letter of the allegations, but told more detailed information could not be given because it would jeopardise ongoing law enforcement and anti-crime operations.
Concerns were also expressed about tipping-off, revealing intelligence and evidence gathering techniques and targets.
Davidson's lawyers issued proceedings and asked for evidence to be produced so he could have a chance to make representations.
Setting out the response from the deputy governor, Lord Chief Justice Sir Declan Morgan said: "He stated that a number of inmates' phone calls were monitored between July 2009 and September 2009 and that they confirmed that the appellant was involved in drug trafficking in Hydebank Wood.
"The letter also stated that the appellant's movements within the YOC were monitored and reports submitted confirming that he was associated with known drug traffickers."
Dismissing the appeal, Sir Declan, sitting with Lord Justice Higgins and Sir John Sheil, said there may be compelling reasons for not disclosing reasons for a decision to a prisoner at the time.
"The decision maker carried out some investigation in relation to it in the limited time available and there is no reason to doubt his real concerns about tipping off, interference with the ongoing security operation, and disclosure of intelligence gathering techniques," he said.
"We do not consider, therefore, that there is any bias upon which it could be said that the decision not to give the prisoner the reasons for removing his temporary release... was procedurally unfair."