Irish government has already spent £19m on A5 road upgrade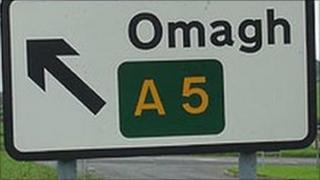 The Irish government has started contributing towards the cost of the major A5 Londonderry to Aughnacloy road upgrade.
The Irish Republic's Department of Transport has told the BBC it has already spent £19m on the project.
The 55-mile long road from Derry to Aughnacloy will be improved into a high-quality dual-carriageway.
It will create a key cross border business route linking Dublin to the north west.
The total cost will be £850m. Of this, £400m has been promised by the Irish government.
The Irish Prime Minister Enda Kenny recently said he remains committed to the project and it has emerged funding has already started.
Given the scale of the A5 project, and cuts to the overall roads budget, the Department for Regional Development (DRD) in Northern Ireland has confirmed it does not have the money to start construction on other road schemes.
These include the Randalstown to Castledawson section of the A6, the A2 at Greenisland and the widening of the Sydenham bypass.
A DRD spokeswoman said funds allocated to the department "would not allow construction of the A6 Randalstown to Castledawson dual carriageway to commence before 2014-2015 at the earliest".
"And under the current allocation construction of the A2 Shore road Greenisland Scheme, York Street interchange and the Sydenham bypass scheme would not be expected to start during the current 2011 - 2015 budget period," she added.
"Whilst construction of these schemes is subject to the availability of finances, it is also essential to complete the remaining statutory procedures and planning to prepare for implementation."