Formalities fail to mask garish backdrop to UVF 'supergrass' case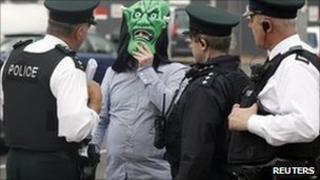 As the largest 'supergrass' trial in Belfast for 25 years began, BBC Ireland correspondent Mark Simpson watched the first day of evidence.
Two armed police officers in bullet-proof vests stood behind former UVF member Robert Stewart as he took his seat in the witness box.
Initially, the self-confessed paramilitary stared at the ground. He did not look at the long line of men against whom he was about to testify.
They were only a short distance away, in the dock, behind a a glass screen.
Some of them, he said, he had known for more than 20 years. They lived in the same area, they hung about with each other.
He went to primary school with one of them. The sister of another used to be his girlfriend. He knew some of them well enough to call them by their nicknames, like Bonzo, Reggie and Poco.
Dressed in a dark green suit and matching tie, Stewart sipped a glass of water, and started to answer the questions posed by Prosecution QC Gordon Kerr.
Eventually, he glanced towards the dock, at the 14 men on trial.
They were all staring back at him.
Between them, they face 97 charges, ranging from murder to hijacking to possessing guns. All of them deny the charges, and as Stewart spoke they shook their heads.
The 37-year-old from north Belfast is what is technically known as an "assisting offender". On the streets of Belfast, they call it a supergrass.
Stewart admitted being involved in the murder of UDA man Tommy English in October 2000. In return for a reduced sentence, he and his older brother David Stewart (41), got a three year sentence instead of 22 years.
As part of a written agreement, they must give evidence in court. They qualify for a witness protection scheme, in case of reprisals.
Robert Stewart is the first of the brothers to go into the witness box. After 40 minutes of answering questions, he requested another glass of water. Court staff brought him two.
He then asked the judge, Mr Justice John Gillen, if he could take off his jacket. The judge agreed.
He was asked if he was feeling ok?
"Yeah," he replied, and straightened his tie.
'Beatings'
Before talking about the night Tommy English was killed, Stewart gave details about the day he joined the UVF in the Mount Vernon estate in north Belfast. The unit he joined was called the third battalion of Tigers Bay UVF.
He went to a secret ceremony in the kitchen of the gang's leader.
There was a gun on the kitchen table, three masked men stood around it and the words of an oath were written on a piece of paper.
He was asked to swear a promise of allegiance to the UVF.
Before the ceremony, a friend had told him that if he was asked why he wanted to join, he should say that he wanted "to shoot taigs". That is a derogatory term used to describe Catholics.
He went on to describe how he was involved in UVF beatings, including breaking a leg and an arm of one victim.
In detail, Stewart outlined his involvement in the preparations for the murder of Mr English. In doing so, he implicated a number of men sitting in the dock. As he named names, they shook their heads.
It was a packed courtroom. At one stage, almost 200 people were inside Court 12.
As well as the 14 accused, there were prison officers, police, press, 24 barristers, representatives from eight different firms of solicitors, court staff and the judge.
The public gallery was filled to capacity. In some parts of the court, it was standing room only.
During the 'supergrass' trials in Belfast in the 1980s, there were frequent disruptions, with jeering and shouting. In some cases, the judge wore a bullet-proof vest.
There were no noisy interruptions during day-one of the latest trial. There was a tense silence throughout from the public gallery.
The case has come to court under new legislation, and safeguards, which did not exist in the 1980s.
The 2005 law stipulates that if the "assisting offender" does not give evidence after receiving a reduced jail-term, they can be re-sentenced.
Stewart has not completed his evidence, and has yet to be cross-examined by defence lawyers. Once he does, it will be his brother's turn in the witness box.
There is a heavy police presence in and around the court. A police sniffer dog was used in the courtroom, before proceedings began.
The high security is expected to continue throughout the 14 week trial.