NI joint venture hopes to improve cancer tests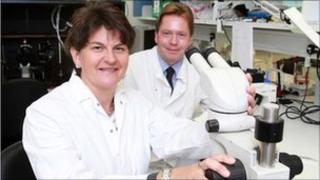 A £4.4m investment in a collaboration between pharmaceutical development company Almac and Queen's University is aimed at improving tests for cancer.
It aims to help with diagnosis and treatment of prostate, ovarian and breast cancer.
Professor Richard Kennedy will lead the research initiative which tailors specific treatment to each cancer patient.
Invest Northern Ireland and The McClay Foundation will give £1.5m of support.
The rest will come from the European Regional Development Fund (ERDF).
Professor Kennedy said the project was an excellent example of how business and academia could work together in the fight against cancer.
"The research will involve using cutting-edge technology developed by Almac which will allow us to analyse large numbers of patient tumours collected by Queen's," he said.
Future cures
"We will develop these tests to help clinicians to better understand prostate, ovarian and breast cancer and prescribe the appropriate treatments tailored to the specific patient.
"We hope this will then improve the chances of cure using chemotherapy and radiotherapy."
The information obtained from the project will be used to design new therapies that could improve response chances and future cures for these cancers.
Enterprise Minister Arlene Foster said Almac's research projects have delivered economic benefits and advancements in cancer treatment worldwide.
"The company is globally respected for its commitment to innovation and this collaboration project will build upon a successful and long-standing research relationship between Almac and Queen's University, Belfast." she said.
The McClay Foundation is the charitable trust established by Almac founder, the late Sir Allen McClay, in 2008.