Republic of Ireland's plans for further spending cuts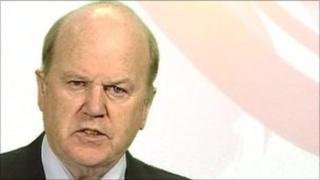 The Republic of Ireland's finance minister has announced plans for further spending cuts and tax increases.
Michael Noonan has said that the Irish government will bring out a three-to-four year plan, sometime in October.
It would show what kind of expenditure cuts and tax increases will be required from the start of 2012.
These will stretch until the deficit target of less than 3% of GDP in 2015 is reached.
Mr Noonan said the government hoped that by 2014 most of the pain will have been endured and Ireland will have a strongly growing economy again - with people going back to work.
But, he said, it was important that people had certainty so they could make decisions.