Moira butcher George McCartney crowned corned beef king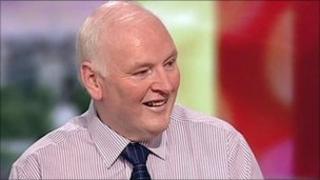 He has just been crowned the corned beef king.
From a small butcher's shop in the sleepy village of Moira, County Down, Northern Ireland to the lofty halls of Selfridge's, London, - George McCartney's beef is top shelf.
The butcher has just won the UK Great Taste Award for his beef. He beat off 7,428 original fine food entries from across the world to take the crown.
Not for him, the fatty, solid greasy lump of corned beef that tastes of war and rationing.
People come from miles to McCartney's butcher's shop just to sample his corned beef.
So what's the secret?
"It is full of really natural products. It is lean silverside, with no gristle and no fat. It is so flavoursome. It is a terrific cut," he explained
George's grandfather was a butcher and he was leafing through one of his old recipe books when he came upon the corned beef recipe.
"The very first time I tried it, it turned out right. I have not have had to change the recipe since," he said.
"Customers come to the shop and ask for it and I say, 'Have you tried it before?'
"They say: 'No, but I've heard about it.'"
The award was presented to the County Down butcher at a ceremony in London on Tuesday.
Cookery writer Prue Leith was also suitably impressed with George McCartney's corned beef.
"It is delicious.
"It is so dense, you do not need a lot of it. It is sort of packed protein... It is wonderful to gee up other things because it has such good flavour. I'm really dribbling," she said after tasting it.
"It is wonderful to see a traditional, good old-fashioned product.
"I think it is interesting that George is making a corned beef with no fat in it, originally it would have had more fat..."This is a corned beef for today and it has exactly that same wonderful deep flavour. But it doesn't leave your mouth all greasy and disgusting."
And now, George McCartney is sending his corned beef out into the world.
"As far as I know, it will be on the shelves in Selfridge's very shortly," he said.
But the butcher, whose two daughters and brother all work in the family business, has no intention of resting on his corned beef laurels.
"This is my 47th year in the business and I have no notion of retiring," he said.
"There are lots more recipes, cuts and cures in Grandpa's old book - so watch this space."