Bob Buchanan lawyer in Smithwick Tribunal complaint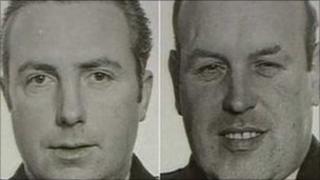 The legal representative of murdered police officer Bob Buchanan's family has made a formal complaint to the Smithwick Tribunal.
Ernie Waterworth made the complaint over the non-disclosure of an Irish police (Garda) intelligence document.
The Dublin tribunal is examining allegations of Garda collusion in the deaths of two senior RUC officers.
Chief Superintendent Harry Breen and Superintendent Bob Buchanan were shot by the IRA in south Armagh in 1989.
On Wednesday, Mr Waterworth said the document had been produced under procedures agreed by the Garda so as not to compromise sources.
"Judge Smithwick has recently re-iterated that the families have a right to know the content of particular documents" he said.
"We are the only legal team here today with no access to that document, the Buchanan family along with the public have a right to know its contents."
The document relates to Garda intelligence obtained in 1993.
Witness 'felt intimidated'
Earlier, the Smithwick Tribunal has heard details of a complaint of fraud made against a former garda at the centre of its investigation.
Civilian witness Patrick Gallagher travelled from Northern Ireland to give evidence.
He made a complaint to the Garda of fraud against former detective sergeant Owen Corrigan following a minor road collision that happened in 1988 in Dunleer, County Louth.
Mr Corrigan was subsequently prosecuted. But days before Mr Gallagher was to give evidence against him in court, he was stopped by a group of men near his home and told not to go.
"I felt intimidated," he said.
"I had children to worry about. I did not want to go to the court sitting."
Mr Corrigan's lawyer, Jim O'Callaghan SC, said his client would be giving evidence saying he had no hand, act, or part in the incident.
He is one of three former gardai under the tribunal's spotlight.
They are being investigated by the tribunal to see if they passed information to the IRA about a meeting at Dundalk Garda Station attended by the two senior RUC officers.
Ch Supt Breen and Supt Buchanan were murdered just minutes after leaving that meeting. All three deny the allegation.