Judge makes jibe at taxi-drivers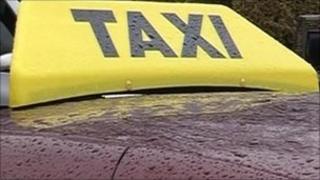 A district judge has accused some taxi-drivers of treating the roads "as their own fiefdom".
Judge John Meehan made the remarks over the case of a Coalisland driver who appeared before Dungannon Magistrates Court charged with careless driving.
Declan Duggan, 34, of Lagan Terrace, pulled out onto a road then carried out a U-turn as oncoming traffic approached, causing a collision.
A number of people were injured, including a baby.
Police charged Duggan with careless driving over the incident which happened in Coalisland on 29 January.
In court Judge Meehan stated, "One sees far too much of this. Some taxi-drivers treat the roads as their own fiefdom.
"Executing a U-turn with oncoming traffic is at the serious end of careless driving."
Ordering a fine of £300 with five penalty points, Judge Meehan told Duggan, "This is a stern caution that you have the responsibility of the public in your vehicle."