New job for demoted civil servant Paul Priestly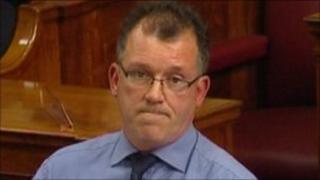 The BBC has learned that a senior civil servant demoted following a disciplinary hearing has taken up a secondment in the private sector.
Paul Priestly, formerly Department for Regional Development permanent secretary, was disciplined in June after helping to draft a complaint letter to a Stormont committee.
He was demoted to deputy secretary but took up his new position a month ago.
Details of his new role have not been made public.
Mr Priestly was suspended in August 2010 after allegations that he had interfered in the work of the Public Accounts Commitee.
It was probing his department and its handling of government-owned Northern Ireland Water when it emerged that Mr Priestly helped write the letter on behalf of a witness to the committee.
His demotion to deputy secretary following an investigation carried out by the head of the civil service, Sir Bruce Robinson, was criticised by some members of the Public Accounts Committee as too lenient.
It is understood that Sir Bruce has written to the chair of the committee, Paul Maskey, informing him of Mr Priestly's new role.