CoI primate Alan Harper civil partnership warning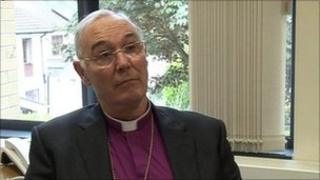 Church of Ireland primate Archbishop Alan Harper has said that the issue of clergy entering civil partnerships with same-sex partners could be a source of major division in the church.
In June, the Very Reverend Tom Gordon, originally from Portadown and now Dean of Leighlin Cathedral in Carlow, became the first CoI clergy man to enter a civil partnership.
Archbishop Harper said the reaction in Northern Ireland had been "relatively strong" particularly from those who opposed civil partnerships.
"In the Republic, the reaction has been much more relaxed - it's not been a major issue," he added.
Earlier this week, Dean Gordon told the BBC that he and his partner of 20 years held the ceremony in a registry office in July.
He described it as a legal instrument and not equivalent to marriage.
Speaking to the BBC on Wednesday, Archbishop Harper said that civil partnerships were a "civil right enshrined in law" which the church had no power to prevent.
But he added that no-one should pretend that there was not a range of views in the church on issues to do with sexuality.
"All clergy should be more than aware that this is an unresolved and frankly a contentious issue in the church and one that is likely to cause division," he said.
"I had hoped the ongoing debate would be conducted a bit more carefully and a bit more generously than it appears to be at the moment."
Archbishop Harper said that both sides in the debate believed their views were formed through reading and interpreting scripture with integrity.
"Differences of opinion already exist. This has sharpened the debate, focused it more narrowly and it does have the capacity to be a source of significant division."