Botanic Inns make a loss of £900k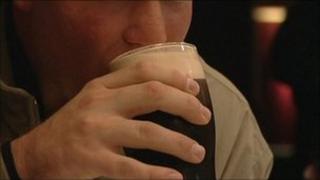 One of the biggest pub chains in Northern Ireland has reported a pre-tax loss of almost £900,000 for 2010.
Botanic Inns, which operates 14 venues and two off-sales, mainly in Belfast, had a turnover of £21m, down by about £1m on 2009.
The directors said the drop in turnover was disappointing, but the group was "trading above current market trends".
The licensed trade in NI has been badly hit in the recession with a significant number of pubs closing.
The controlling company in the Botanic Inns group is a firm called Kurkova.
In its accounts, the directors state that "high rents" they pay on venues which they lease rather than own, had put pressure on cashflow.
They added that they had agreed a rent reduction with the landlord, subject to the approval of the landlord's bankers.
They also state that the rent reduction is necessary for the group to remain within its overdraft limit.
Kurkova's current loan facilities with Ulster Bank expire in December but the directors say they are expected to be renewed next month.
Speaking to BBC Business Reporter Colletta Smith, Stephen Magorrian, who controls Kurkova/Botanic, said factors which had reduced turnover included the extreme weather at Christmas and New Year.
"We are down 3.5%, which isn't good. But in the current market we're quite pleased with that. That is out performing the market," he added.
"Times are tough. Obviously we would love it to be in a positive position, but the most important thing to us is cash generation of £1.1m so we're still paying all of our debts."