Cigarette smuggler jailed for failing to pay £500k order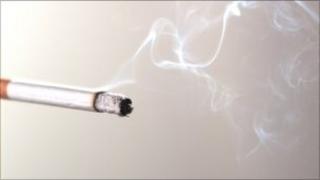 A convicted cigarette smuggler has been jailed for three years for failing to pay a £500,000 confiscation order.
Aiden Francis Grew from Benburb Street in Blackwatertown was arrested and jailed on Tuesday.
The 55-year-old had pleaded guilty in 2008 to evading duty on almost five million cigarettes. He was sentenced to three years imprisonment suspended for two years.
He was ordered to pay £500,000, which if not paid, would result in jail time.
The conviction related to a joint police and customs operation in 2005 which recovered almost 16m cigarettes at Battleford Road near Armagh City. No duty had been paid on them.
The default sentence given in 2008 meant Grew would serve a further three years if payment was not made within 12 months.
John Whiting, assistant director, Criminal Investigation for HMRC, said Grew would now have to serve this default sentence as he failed to pay the confiscation amount.
"We are determined that this money will be restored to the public's finances and we will continue to pursue this debt to reclaim the proceeds of crime," he said.
"HMRC will seek to recover any financial gain from those involved in excise fraud and will work with our partners in the Organised Crime Task Force (OCTF) to stamp out the illegal trade in smuggled tobacco."
Grew has previously been accused in court in the Republic of being a member of the Real IRA, but the charge was withdrawn in 2004.
In the mid-1980s he served a 15-year sentence for his part in an IRA landmine attack on UDR soldiers in Co Armagh.
Two of his brothers, Seamus and Dessie, were killed in two separate securoty force shootings.