Police Ombudsman Al Hutchinson to appear at Stormont committee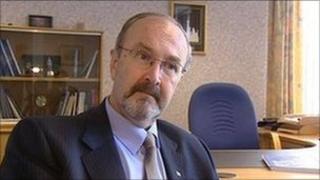 The Police Ombudsman Al Hutchinson will appear in front of the justice committee at Stormont later to discuss the third highly-critical report about his office.
The report found the independence of his office had been compromised by its handling of historical cases.
After the report's release on Monday, Al Hutchinson said he would quit his job earlier than planned.
He is expected to leave within the next nine months.
His departure details will be given at the committee.
Al Hutchinson commissioned the Criminal Justice Inspectorate report after the chief executive of his office resigned and criticised how business was done.
Its findings also highlighted concerns involving the handling of sensitive material and divisions within senior management.
Dr Michael Maguire, the chief inspector of criminal justice in Northern Ireland who carried out the report, will also be attendance at the committee.