Sex abuse victim sues Holy Child Primary School in Derry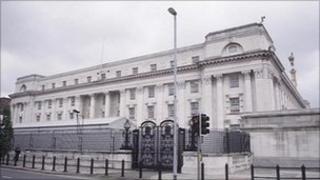 A child sex abuse victim is suing the school in Londonderry where his alleged molester taught, it has emerged.
Proceedings against Holy Child Primary School are under way at the Northern Ireland High Court.
The plaintiff is seeking damages over abuse he says he was subjected to more than 20 years ago.
It is understood that the perpetrator, a former teacher at the school in the city's Creggan area, has already been convicted of sexual offences.
Despite facing a civil lawsuit, he is unrepresented in the case being heard by Mr Justice Hart.
But a further claim against Holy Child is being defended on the basis that any abuse had nothing to do with the perpetrator's role as a teacher.
Although he did not teach the plaintiff, he was said to have targeted him around 1990, and to have resumed his campaign a number of years later.
Taken out of class
The court heard how the plaintiff claimed he was abused regularly over a period of months.
He said he was requested out of his own class 15 minutes early almost every afternoon.
It was alleged that he was taken to the teacher's own classroom where the assaults were carried out.
Giving evidence, the school's principal at the time said: "For a child to be asked to be removed from his or her classroom every afternoon would be outrageous and it would highlight enormous problems."
He said he could understand some boys being requested occasionally to help get equipment ready for a hurling match.
"If you are talking about once a month, or things like that, nothing is impossible," he added.
"But certainly it would be impossible for day after day after day."
The case continues.