Incapacity benefit could be lost if bill's plans go ahead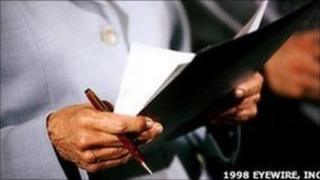 Welfare Reform Bill plans could result in thousands losing their incapacity benefit, according to Advice NI.
The organisation represents more than 60 organisations which give people help and advice.
It has highlighted major changes to contribution based Employment and Support Allowance (ESA) time limits proposed in the bill.
Kevin Higgins, Advice NI's head of policy said he had "grave concerns" about the proposals.
Official statistics state there are about 51,000 incapacity benefit recipients in Northern Ireland.
According to outcomes of pilots undertaken in Aberdeen and Burnley, it is envisaged that approximately 20,000 of these will be placed in the work-related activity group following benefit reassessments.
The bill's proposals would mean these claimants would see their benefit axed one year after transferring to ESA.
Mr Higgins emphasised the plans were not yet law.
"There is still time for policy makers and politicians to protect our most vulnerable citizens and challenge these proposals at Westminster," he said.
"We fear that if these proposals are introduced, people with severe, long-term disabilities may be pushed into even greater hardship, particularly given the additional costs associated with disability.
"Essentially, claimants could find their benefit axed, not because of any improvement in their condition, but because of the introduction of an arbitrary 12-month rule."