Peter Robinson and Martin McGuinness on US investment trip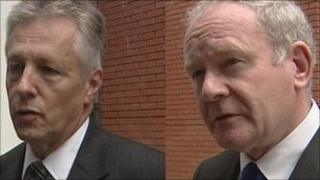 The First and Deputy First Ministers are to visit the United States on a five day investment mission next week.
Peter Robinson and Martin McGuinness will meet business leaders in Los Angeles, Chicago and New York.
The trip is to promote Northern Ireland as a place to invest in.
The ministers will meet executives from the entertainment and technology industries when in Los Angeles to highlight a commitment to develop the industry in NI.
In Chicago they will meet with a number of potential investors and Chicago Mayor Rahm Emanuel before travelling to New York.
Here they will officially open the New York offices of Newry based company, First Derivatives.
First Minister Peter Robinson said: "Over the past few years we have made a number of successful visits to the US that have culminated in a number of high profile companies investing in Northern Ireland, creating large numbers of value added jobs.
"I have no doubt that in the months to come and as a result of this visit that we will see further investment in Northern Ireland by some of the companies we will meet next week."
Deputy First Minister Martin McGuinness said that despite challenging economic times they had been encouraged by the investments of major global companies in Northern Ireland.
"In the course of this visit, the First Minister and I will be promoting the north as a place to invest," he said.