Fermanagh residents' grief over care home closure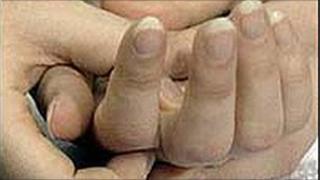 A Northern Ireland charity has said it is "devastated" that it must close a care home in Enniskillen breaking up a 'family' of 15 residents.
Praxis Care runs Galliagh House which is home to adults with learning disabilities.
But Andy Mayhew, the charity's care director, said a drop in the number of referrals meant the home could no longer remain open.
A sister of one of the residents said they were effectively being "evicted".
Karen Corrigan, whose sister Rita has been in the home since 1994, said families felt disheartened and very concerned about the impact.
"My sister's disability means she does not understand. But the physical change will have an awful impact on her life," she said.
Ms Corrigan said the home was to close next August but she felt that her sister was "in limbo", not knowing what would happen to her.
In a statement, the Western Health Trust which funds 11 placements at the home said it was "a difficult time for the residents".
"Praxis Care has informed the trust that they have decided to close Galliagh House in Enniskillen due to business reasons," the statement said.
The trust said it was working with residents and their families to find the right accommodation.
Mr Mayhew from Praxis Care said families of residents felt anxious, angry and concerned.
"They are going to lose their home and it is devastating for them," he said.
"The home is a 22-bed unit and it has been losing residents over the years. That has continued despite efforts to attract new referrals."
Mr Mayhew said government policy was geared towards supported living or care at home which was attractive to younger people.
"If we were not a charity, this decision would have been made a long time ago," he said.
"The year before last, we lost £80,000. Last year we lost over £140,000 and this year will be the same.
"Unfortunately, we are being advised that there is not going to be the demand for the type of service we provide at Galliagh House.
"It feels awful. Everybody feels devastated, particularly for the staff in the house. Their main concern is for the residents. They have been working with them for years."