Foyle rescuers ordered not to use flashing lights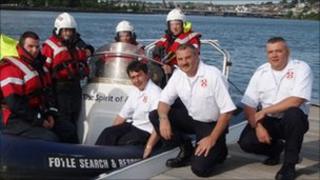 An emergency rescue service has said its response times to emergencies have almost doubled after it was told it could not use flashing lights or break the speed limit.
Foyle Search and Rescue believed it was covered by police insurance, but recently discovered that was not the case.
As a consequence, they must now obey all traffic signals.
Adrian Boyd from the group said he fears lives could be put at risk.
The discrepancy over insurance emerged three weeks ago after a rescue vehicle was involved in a minor collision with a police car.
Following a meeting with the PSNI, rescuers were told they were not covered by police insurance and as a result could not use flashing lights on the roof, break the speed limit, or use their horn to get other vehicles to move out of the way.
Mr Boyd said some response times by Foyle Search and Rescue have now doubled.
"The River Foyle is the second fastest flowing in river in Europe and is one of the coldest," he added.
"So if you look at the tides they are going to wash that person out, if that person is not a strong swimmer.
"I have also seen swimmers go into the river who haven't survived. I just dread to think what that extra six or seven minutes is going to do to that person."
In a statement police said the insurance issue was "unfortunate".
"There is no legislation that permits volunteers to use flashing emergency lights or breach the speed limits - these powers are limited to police, ambulance and fire service personnel," the statment added.
"As an act of partnership and goodwill we have informed Foyle Search and Rescue that we will contribute towards the insurance of official Foyle Search and Rescue vehicles.
"Unfortunately this cannot extend to volunteers private vehicles."