Robert Stewart admits changing account of UDA man's murder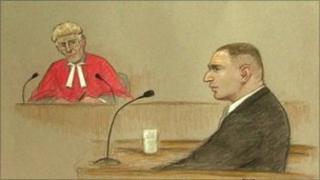 The key witness in the supergrass trial in Belfast has admitted changing his account of the murder of UDA chief Tommy English.
Robert Stewart, 37, is giving evidence against alleged former Ulster Volunteer Force (UVF) commander Mark Haddock and 13 other defendants.
He admitted leaving out evidence about two of the accused in the account of the murder he gave to police in 2008.
Frank O'Donoghue QC said Stewart told police a "blooming great whopper".
There was laughter as Stewart replied: "That is correct".
Mr O'Donoghue, the barrister for Haddock, asked the witness: "You intentionally lied to protect people, so have you intentionally lied to accuse people?"
Stewart replied: "Everyone in the dock is guilty and Mr Haddock over there as well."
Later, Stewart was warned by the judge about the difference between forgetting things and saying he was remembering them later and the idea of adding things on.
At another stage, the judge asked him about other testimony and appeared frustrated, asking him: "Is this all made up then?"
There was a smattering of applause from the public gallery, before Stewart said "No."
Stewart has said he and his brother David, who is also turning state's evidence, were two of four men involved in hijacking a taxi on the night of Mr English's murder.
Mr O'Donoghue asked him if it was the only taxi he had ever hijacked. Stewart said he was not sure, but that he had probably hijacked more.
"How many taxis have you hijacked in your illustrious career?" he was asked.
Mr O'Donoghue later asked him: "Did you shoot Tommy English?", to which Stewart replied "No".
The lawyer then said: "Have you not fabricated for yourself a role as a taxi hijacker?" , to which Stewart again replied "No".
He was also questioned about the reasons he and his brother had for turning themselves in to the police in 2008.
The defence barrister asked if they were interested in getting money from it.
Stewart looked at the defendants and replied: "No, I didn't want to be that person any more, no matter how much you stare at me... and I feel a lot better for it - you should try it."
He went on to say: "I have not gained anything from anyone. It's a hard process. The only reason I'm sitting in this box, is people think I'm telling the truth."
The court will sit again next week, when Robert Stewart will still be on the witness stand.