Sex offender Paul Hunter Redpath spotted in Belfast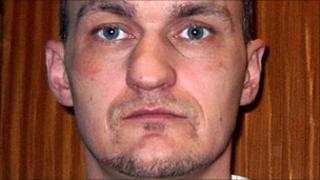 Police in Scotland have confirmed they are investigating a sighting of a convicted sex offender in Belfast last month.
Paul Hunter Redpath, who is 40 and originally from Stanraer, was convicted of sexually assaulting two teenage sisters in Downpatrick in 2005.
He went missing from a hostel in Aberdeen two months ago.
Redpath also went missing while on probation in Northern Ireland two years ago.
He was detained in County Wicklow in the Republic of Ireland on that occasion.