Charles and Camilla arrive for two-day visit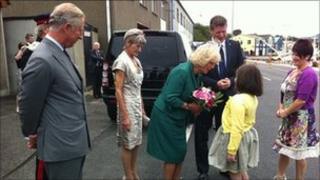 The Prince of Wales and the Duchess of Cornwall have visited Kilkeel as the first part of a two-day stay in Northern Ireland.
In the first of a series of engagements they met representatives from the local fishing industry.
They were welcomed by the Lord Lieutenant of County Down, David Lindsay and local MP Margaret Ritchie.
The couple visited the quay side where they were shown a net designed to tackle the problem of discarded fish.
The couple were accompanied on their visit by Secretary of State, Owen Paterson, his wife Rose and a host of other dignitaries.
The visit had been due to last an hour and a half but the couple spent almost three hours at the harbour talking to people from the town.
That included a trip on a trawler with a Kilkeel fisherman - Prince Charles even taking the wheel for a short time on the cruise around the harbour.
After a walkabout in the harbour, the prince and duchess visited the Nautilus Maritime Visitors' Centre, before going their separate ways.
Prince Charles met fishing industry representatives to discuss the problems Kilkeel and other harbour towns face and the Duchess cooked scallops as part of a culinary course.
The royals will carry out a series of engagements on Friday as part of their two-day visit to Northern Ireland.