Smithwick: Operation against Murphy was 'ill-advised'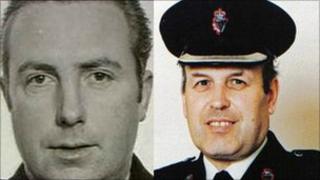 A former high-ranking RUC officer has described a planned cross-border police operation on lands owned by a well-known republican as 'ill-advised'.
Witness 27 was giving evidence to the Smithwick Tribunal in Dublin on Thursday.
The tribunal is investigating allegations of Garda collusion in the murder of two RUC officers.
The former assistant chief constable has been granted anonymity by the enquiry
Chief Superintendent Harry Breen and Superintendent Bob Buchanan were shot dead in south Armagh in March 1989 after returning from a meeting with gardai in Dundalk.
It was just days after the meeting former assistant chief constable, witness 27, said he attended a function at Stormont Castle.
At the table was then secretary of state Tom King, his personal assistant, two army officers from Armagh - along with Chief Supt Breen and Supt Buchanan.
The RUC officers were killed returning from a meeting at Dundalk Garda Station, where plans for the joint operation on lands owned by Thomas "Slab" Murphy were discussed.
The witness said that both he and Supt Breen were "deeply disappointed" that the operation was about to be launched.
"We were being directed by a politician to conduct a police investigation that was ill-advised" he said,
"There was no actionable intelligence that would have warranted that investigation."
Witness 27 also refuted evidence given by another former RUC officer, also granted anonymity by Judge Smithwick.
Witness 18 had previously told the tribunal that he attended a meeting with the men in Armagh days before their deaths: "I told them not to go, they disobeyed an order and they were killed," he said.
But today witness 27 said he was also at that meeting and no such directive was issued.
"That is wholly inaccurate," he said.
"No such order was given and it could not have been, it was totally necessary for the officers to meet the gardai face to face."
The witness broke down when describing of hearing of the deaths of the officers on March 20.
"I was at my desk and the telex machine rattled away notifying me of two dead bodies at the border, when the number of the car came in I knew it was Bob's car and realised straight away what had happened" he said.
He first rang the Northern Ireland Office, "They asked me what those men were doing down there on their own."
Earlier on Thursday, a former high-ranking garda told the tribunal that he believes the murders were a "well organised ambush".
Former Chief Superintendent John Nolan was the last garda to have spoken to the victims before they left Dundalk Garda Station.
He said the provisionals roamed the nearby area at will. They could have carried out previous surveillance of the RUC officers' movements, he added.
Chief Supt Breen and Supt Buchanan were shot dead in Jonesborough, 20 minutes after Mr Nolan last spoke to them.
Mr Nolan told the tribunal he remained convinced that the IRA ambush was well organised adding they had not left anything to chance.
"They either had good information or were lucky on the day," he said of the IRA unit that carried out the ambush.
"In my view the RUC officers were followed, as it would be leaving too much to chance by not knowing the route they were going to take."
Transfer
He also said that despite all the faults of former Garda detective sergeant Owen Corrigan - one of three former Irish police officers being investigated by the tribunal - he did not believe he was a mole or passed any information to the IRA.
In 2000, Mr Corrigan was named in the House of Commons by unionist MP Jeffrey Donaldson as having tipped off the IRA about the whereabouts of two RUC officers who were later shot dead.
"Looking at the entire detective branch in Dundalk at the time I was not surprised he was named," Mr Nolan said. "But there is no credence attached to that allegation."
The tribunal earlier heard of efforts in 1989 to transfer Mr Corrigan out of Dundalk Garda Station.
Mr Nolan described the then detective sergeant as taking "several steps to frustrate" the transfer.
"I wrote to the then Garda assistant commissioner Ned O'Dea to inform him of what I suspected Owen Corrigan of being involved in," Mr Nolan said.
That letter referred to Mr Corrigan's suspected involvement in smuggling, altering official records and the unauthorised use of official cars.
"Smuggling in that area was very well organised by subversives," Mr Nolan said. "I imagine if one was involved in such activity you would have had a lot of dealings with subversives and those who controlled the border."
Mr Nolan did concede that he had no positive proof of smuggling activity carried out by Mr Corrigan.
In January 1990 Mr Corrigan was charged with two breaches of Garda discipline but the proceedings were stopped on account of his retirement.