Holy Child Primary School, Derry, sued by abuse victim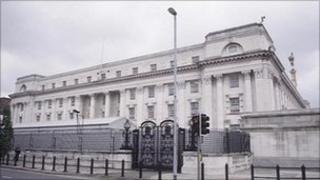 A court has heard that a paedophile teacher groomed one of his victims while at a Londonderry primary school.
The victim is suing Holy Child Primary School, in the Creggan, for alleged liability in the assaults which took place more than 20 years ago.
Former teacher Paul John Brown pleaded guilty to a catalogue of child sex abuse in 2004.
The lawsuit has also been brought against the Western Education and Library Board.
Brown, 47, formerly of Carnamill Road, Ballykelly, but now believed to live in London, was convicted of indecent assault, gross indecency and indecent conduct between 1988 and 1995.
He is unrepresented in the case which is being heard at the Northern Ireland High Court.
Although he did not teach the victim, it is claimed that he first targeted him when they were both at the same school.
Lawyer Philip Kealey said outside court: "The grooming started when my client was a pupil in the Holy Child Primary School.
"He (Brown) coached him for hockey and hurling, and when my client hurt his leg at games he took him home.
"That's how he became a friend of the family and the abuse continued from there."
Lawyers for Holy Child are denying a claim of vicarious liability in the case.
A psychiatrist who dealt with the victim told the court that he only realised what was happened to him was wrong when he was aged 13 or 14 and had left the primary school.
She contested claims over the extent of any post-traumatic stress disorder he had suffered.
The medical expert pointed to records of him enjoying school well after leaving Holy Child, having a good circle of friends, and going on to set up his own business.
"That would not be in keeping with somebody who has a severe disabling illness which is pervasive," she said.
"Post-traumatic stress disorder is a very severe disorder... it's not a diagnosis one makes often."
The judge hearing the claim, Mr Justice Hart, reserved his decision.