Man charged with involvement in Twelfth Ardoyne rioting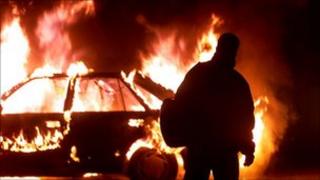 A 26-year-old man has been charged with rioting in Ardyone on 12 July this year.
The man is also alleged to have been in possession of and thrown petrol bombs.
He is due to appear at Belfast Magistrates' Court on Friday.
Police have so far arrested 47 people, and now charged 41, with involvement in rioting in north and west Belfast during the Twelfth holidays.
Earlier this week the PSNI released pictures of 28 people they want to speak to in connection with the disorder in July.
The man charged is not thought to be one of them.