Ambulance raided during 999 call in east Belfast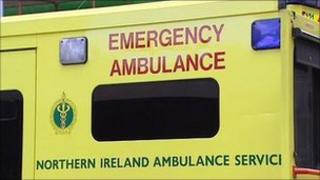 A satellite navigation system and digital radio have been stolen from an ambulance responding to a 999 call in east Belfast.
The vehicle was ransacked outside a house in Ladas Way at about 01:20 BST on Friday.
The crew were inside the house dealing with a man with breathing difficulties. It is believed a group of youths seen in the area were responsible.
It is believed one of the youths made the original 999 call.
The sat nav had been unscrewed and taken along with a digital trunk radio.
The ambulance service said that while neither of the items were life-saving pieces of equipment, "they are representative of the investment by the ambulance service in systems that improve our response to potentially life threatening calls.
"In that context they are much more valuable to us than to any individual who will be unable to make any use of them."
Alliance East Belfast MP Naomi Long described the robbery as "disgraceful".
"While the equipment stolen was not life-saving, this robbery did take an ambulance out of service for a period of time," she said.
"To replace this equipment has cost the ambulance service valuable time and resources that could have been better spent delivering medical treatment."