Tourists to Belfast complain about 'aggressive' tour ticket sellers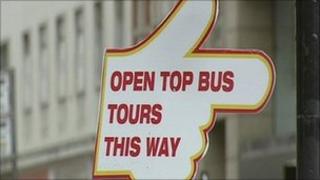 The Northern Ireland Tourist Board (NITB) has said it is concerned that some visitors to Belfast have had a bad experience at the hands of "aggressive" tour ticket sellers.
The NITB said it had noted a rise in the number of complaints about "alleged aggressive street selling tactics".
These are directly related to bus tours.
The problem will be discussed at the council's licensing committee later on Monday.
The board's comments were made in a Belfast City Council consultation on street trading.
It added that such an experience for visitors was "not conducive to gaining positive...word of mouth business".
Other consultees have also raised concerns about the activities of the ticket sellers.
Belfast City Centre Management (BCCM) said it was concerned by the relationship between bus tour companies describing how the rivalry had led to "numerous incidents of anti-social behaviour".
BCCM added that the police had been contacted by "many businesses in the city centre regarding hostilities between tour companies".
Level of competition
It also said that "hostile selling" of tickets created a negative image of Belfast and could be intimidating to visitors.
The response from a police inspector agreed that "the level of competition" had been a cause for concern to the police and other regulators.
The Belfast Visitor and Convention Bureau (BVCB) said "unacceptable behaviour" had been displayed by some of the bus tour companies and said that granting of further street trading licences to sell tickets should be "looked at very closely".
On Monday the city council's Licensing Committee will discuss applications by three street traders to be allowed to sell tickets from their pitches.
George Grimley director of Belfast City Sightseeing Tours said no-one had complained to his company directly, but said he had heard rumours that there had been complaints.
"We don't consider our staff to be the problem, certainly within our company, because all the staff are trained for street sales and there is not, or should not be any aggressiveness from our staff," he said.
In relation to the competition between companies, he said that codes of conduct had been looked at to ensure that rival companies were not encroaching on each other.
He said that the problem with these codes was that they were "up in the air at the moment".
"From my view there haven't been any penalties included," he added.
In June, the council proposed to take staff out of their normal jobs to police the arrival of ships at the docks following concerns about the manner in which bus tours were sold to visitors arriving on cruise ships.